I haven't had a chance to post much this week, as I've been busy getting ready for the holidays. Am I ready now? Of course not!!! There is still baking to be done and gifts to be wrapped. And maybe even a gift or two to be purchased. Nothing like waiting until the last possible minute! I am one of the world's greatest procrastinators, and I hate all of the holiday pressure to do way too much, so I have always been gifted at running around like a madwoman the last two days before Christmas. I am, however, pleased with myself this year because I managed to send out holiday cards to family and friends. That's something that usually falls by the wayside due to my procrastinating ways.
I took today off of work, and right now, I really should be at the grocery store, hastily buying all the baking supplies I can grab. But I successfully talked myself out of it earlier today when I realized that the peak supermarket madness is probably going on right now. So today, I will relax and (hopefully) stitch a bit, putting off the grocery store trip until later this evening. The non-stop baking will begin early tomorrow morning, and will probably continue until we leave to visit family late Christmas morning.
Stitching has been going well this week, with some time spent working on a few different projects. After last weekends stitchathon, I continued working for a bit on Acorns & Flowers Sampler on Monday evening. This project is progressing pretty well, but I am getting tired of Montenegrin stitch. More specifically, I am getting tired of trying to figure out a not very user-friendly pattern. I often find myself guessing at what I am supposed to be stitching, as many of the diagrams are hard to read.
Tuesday is my regular UFO day, and I dutifully dragged out Santa's Magic. It's still slow going on this one, but I keep telling myself that every stitch is one stitch closer to finished.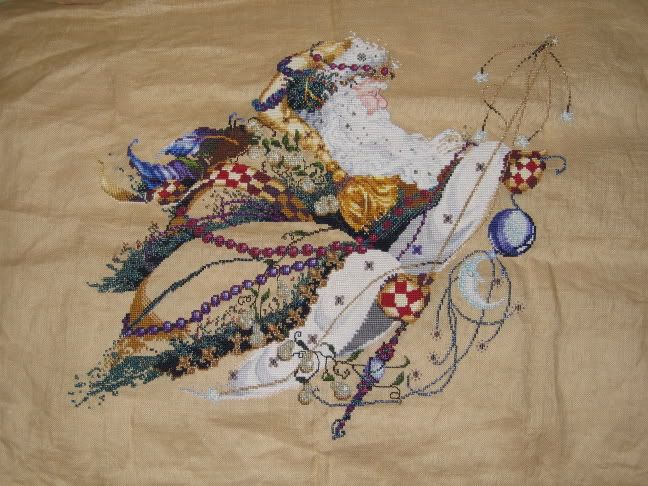 Wednesday and Thursday were spent working on Snow Wonderful, which has been a lot of fun to stitch. I've been going back and forth between the different areas, so it never gets too boring.