After finishing the cuffs on both socks, I simply couldn't put it down. I gave in to temptation and decided to try a heel flap. Not too bad. Once the heel flap was done, I figured I might as well try to turn the heel. All I had to go by were the printed instructions, so I didn't really expect that it would go smoothly. It did. I kept knitting and all that is left now is to graft the toe. I'll knit the second sock along with the class. There are still two sessions left, and I need something to do.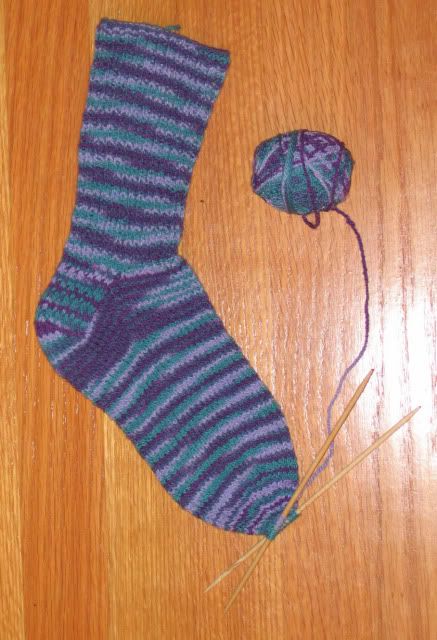 This week's attempt at basket weaving was successful, but only barely. This silly little thing fought me every step of the way. The handle is a single piece that goes all the way down & across the bottom-- the basket is woven around the handle, rather than having it simply inserted at the end. Following the shape of the handle as it flared out proved to be challenging for this novice basket weaver. I got it all under control just in time to have trouble with the lashing (the bit at the top that holds the rim in place). I'll probably end up re-doing it later, because I'm just not happy with it.
The good thing about this basket (now that it's finished) is that it is just the right size to stow a small stitching project. Right now, it's holding my current WIP-- a Mill Hill autumn-themed Buttons & Beads kit.