Months ago, when it was still warm outside, I decided to make Simplicity 2964. It's not a particularly complicated top, and it should have gone quickly. I was planning to do View A (the one the model is actually wearing) in the fabric shown with my pattern.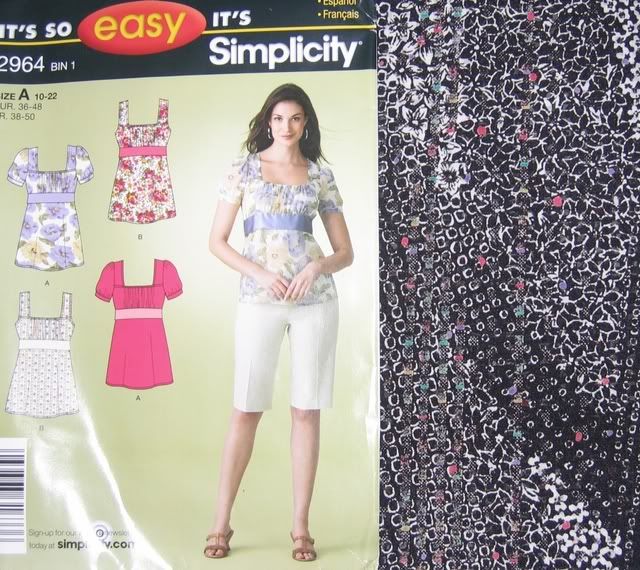 I cut it out, then started putting it together. One of the first steps was adding the elastic across the top of the neckline, then attaching the front bodice to the front yokes. Easy enough. Just to be sure, I pinned this assembly to my dress form after sewing the three pieces together. Good thing I checked!
See that seam that sits right under the bust? Well, on me, it was going to hit... um... right across the middle of my bust. NOT a good look! The bust seam thing is something that really irritates me on tops, and it's one of the reasons that I have so much trouble finding RTW tops that fit properly. Nearly every one of them has an under bust seam that is nowhere near being
under
my bustline. *Sigh*
Once I found this problem, there was no choice but to re-cut the bodice. Not really a problem, since I had plenty of extra fabric. It was a nuisance, nonetheless. The end result was that I put it aside, intending to go back to it later. Well, "later" never came, and here I am.
Today, I finally dragged it all back out and re-cut the front bodice. Tomorrow, I'll start putting it together. With a bit of luck, and a little persistence, I should have a new top to wear by the time the weather turns warm again. LOL