FUFO = Finished UnFinished Object or, what our UFOs and WIPs become after we finish stitching them and move on to the next new project. For some reason, it's like I have a mental block against doing anything with my stitching once I complete a project. So I've committed to doing some finishing one weekend each month. I'm hoping this will reduce my pile of FUFOs.
I really wanted to skip any finishing this weekend, but that would have been a poor start to my year of FUFOs. So I dragged out the sewing machine and turned Bee My Honey into a small pillow. The kit came with the pre-cut fabric to finish it with, so there was really nothing to it. I simply had to sew a couple of straight lines, attach the stitching to the pillow, stuff and close the seam.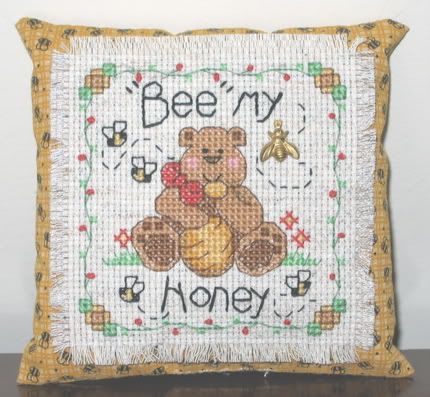 I also worked on my Valentine exchange piece over the weekend. It's turning out to be so pretty! Of course, I can't share a picture yet, because it's a secret. The stitching is very nearly completed, and I'll probably finish it into a (*#%*@#$ next weekend.