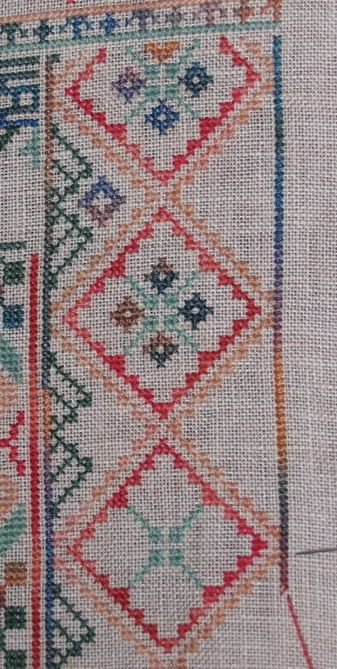 My stitch-athon weekend got off to a rocky start. I began on Friday evening, after a leisurely dinner. First, I stitched the top red diamond bit shown here, only I stitched it in the wrong color. It wasn't too much stitching, so I ripped it out and began again. This time, I got the top 3 red diamonds stitched, plus the bits of filling in the first one. Then I realized that I had miscounted in the beginning and was ONE STITCH too many to the right. I ended up frogging my evening's work. After that, I wasn't very excited about stitching and decided to put it away for the night.
On Saturday morning, we were heading out to the country for the weekend. Since I made no progress on Friday night, I decided to stitch in the car. Not easy to do on 40 ct. linen!! Nevertheless, I made a bit of progress during our 90-minute trip. The rest of the weekend was pretty good stitch-wise, though I did have a few things out there to distract me from stitching. Even so, I managed to make pretty good progress, I think.
I also did a bit of shopping over the weekend, and BF bought me a new sewing machine! I'm thrilled about it, even though he tells me that his mother will be mortified. Apparently, a sewing machine is not a romantic gift! LOL It's one of the computerized machines, with all sorts of stitches and a multitude of functions that I haven't entirely figured out yet. It's way more machine than I'll probably ever need, but it's nice to have the options. This will certainly make my needlework finishing a lot easier.