This was an extremely productive weekend for me stitch-wise. I started by going to JoAnn's Fabrics on Saturday morning. Going to those stores is always a chore for me, and I often manage to talk myself out of it. While there, I picked up the fabric for my Valentine exchange project and two potential fabrics for finishing the Sekas heart that I stitched a few years ago.
We had a Monday holiday this week, so I was able to spend a good part of yesterday stitching. I started by finishing Snow Wonderful. I'm very pleased with the way that it turned out, and it was a lot of fun to stitch.
Heather-- this pattern is by M Designs. I stumbled across it one day while browsing at the
Wyndham Needleworks
website and just
had
to have it.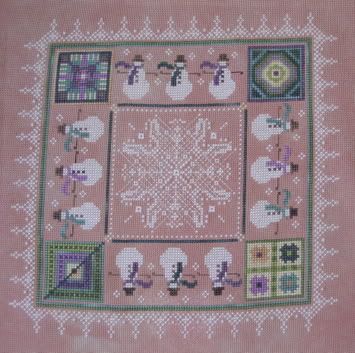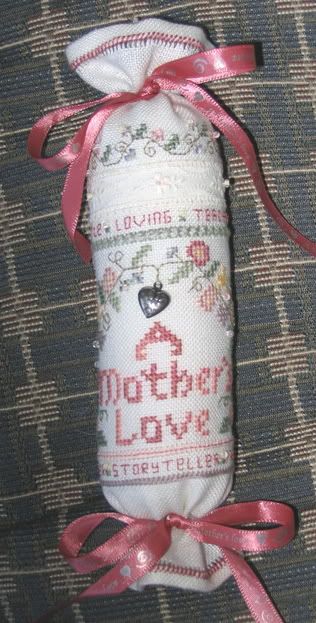 After completing Snow Wonderful, I decided to assemble a couple of needlerolls. I wasn't able to fix the plastic piece that broke off of my sewing machine, but I was able to use the second spool that is supposed to be for double needle sewing. So the machine works, as long as I only need to use one needle. That's good enough for needlerolls!
In addition to Mother's Love needleroll, I also assembled Spring Morning into a needleroll. I didn't get a pic of the assembled roll, but here's a pic of it after I finished the stitching on it. It's from a Victoria Sampler cyberclass that I completed in October 2004.