I woke up feeling lousy yesterday, so called in sick to work. Nothing serious, just one of those days and I'm fine now. And of course I wasn't too sick to stitch!
Now you'd think with a whole day just to put my feet up and stitch, on a TUESDAY, that I would have made all sorts of progress on my official UFO, Adia. Wrong! I meant to... really, I did. But I had pulled out Castle Sampler for my Monday TW stitch-along and I just couldn't put it down.
Lately I've been working on the Castle in the center panel. I've made pretty good progress and can see the light at the end of the tunnel. I got a bit bored with that and switched to the inner border for a while. That's one of the reasons I love stitching TW designs-- lots of variety!!! And I truly enjoy working those borders.
The photo below was taken before I stopped working for the night. I've completed the inner border across the top, and am now working my way down the right side.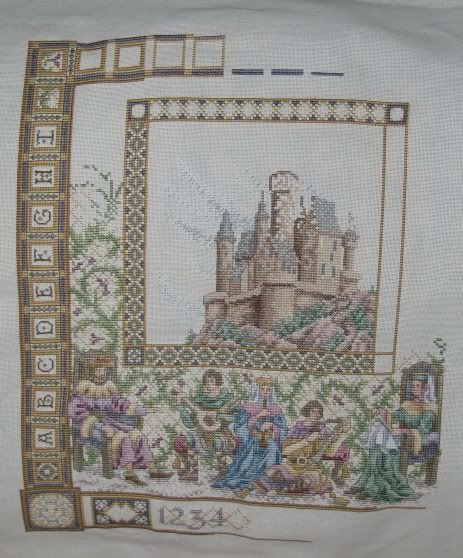 And I promise I'll work on Adia again soon!!