I think I've been staying on track this week with my stitching, although I haven't felt all that productive. Maybe it's the lack of Happy Dances this month. Most of my February stitching has been on BAPs and I'm not having many finishes to celebrate right now. Maybe it's time for another ornament.
Monday was the TW SAL, and I dutifully pulled out Castle Sampler. One of my goals for this month is to finish the center panel, and I think I am on track for that.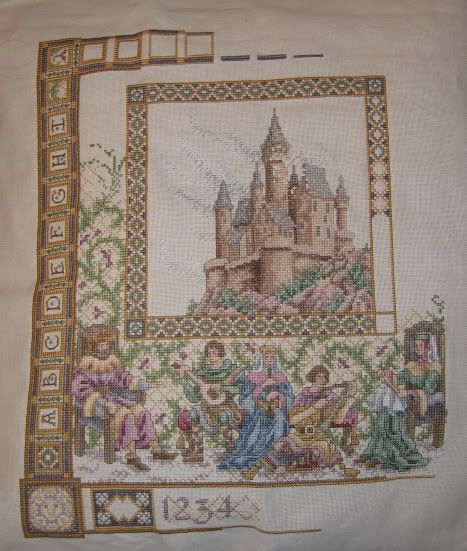 On Tuesday I worked on my UFO. I was tired of fiddling with beads, so I worked on her wing instead. There's a ton of blending filament and metallic braid in the wings, which made the stitching go quite slowly.
With my SAL commitments out of the way, I was able to spend some time working on Robert's Stocking. I'm happy to report that it is going much more smoothly now after all of the frustration I had earlier with restarting it. I took the photo below before last night's stitching session and have nearly finished the sleeve.