The laptop is currently out of town with BF, which means I can't post any stitching progress. So, I'll share some gratuitous flower pictures instead. ;) I had excellent results with the bulbs that I planted last fall-- 100% success! They're blooming in stages, so we've had continuous color ever since the first crocus peeked through the ground.
One of the first tulips to bloom this year was Fosteriana "Red Emporor". The petals of these were so shiny that it made the flowers difficult to photograph. I did the best I could, but had to do it in a hurry. Then, we got a lot of rain, and the blooms were ruined before I could take more pics.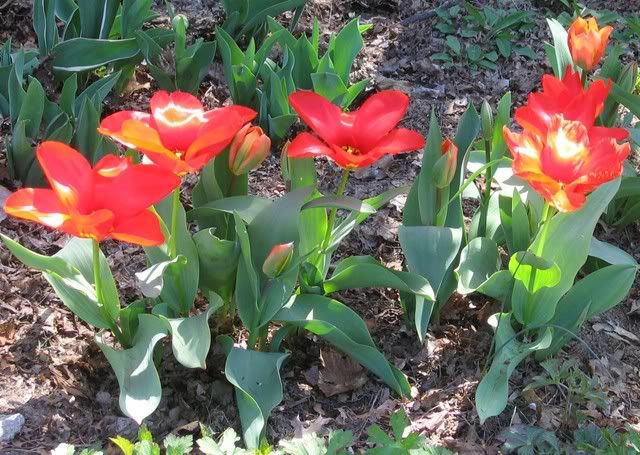 "Orange Emporor" came next, followed by a Darwin hybrid "Daydream". Funny thing about "Daydream"... it has turned sort of orange. It was a sunny yellow when I took the photograph below, but the color has changed considerably as the bloom has matured. I'll need to take another photo, if the rain we're getting doesn't ruin them first.
These are more Darwin hybrids, but I can't remember their name.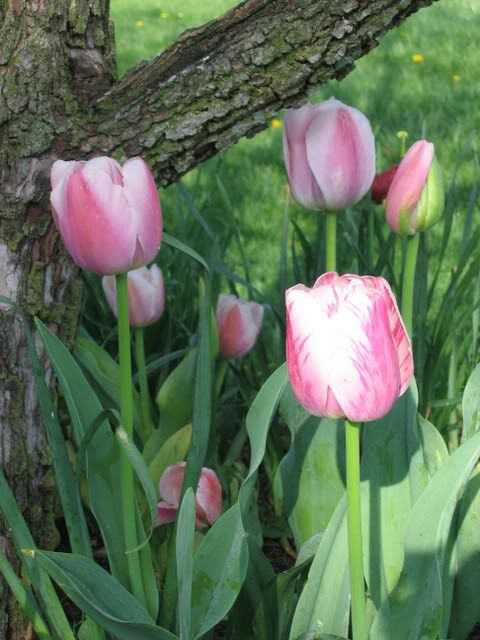 Gardening chores are multiplying quickly around here. I'm exhausted from it most of the time, but the results are worth it. The weed patch is slowly starting to look more like a garden. I got the tiller out the other day and worked on another row. Ordinarily, we would have worked the soil for the entire garden at one time, but it was neglected for so long that we can only manage it piecemeal. I doubt we'll get it entirely back into shape this year, but at least we're making progress.