I recently joined the
Monthly Finishing Challenge
blog, and it has already had a great effect on my FUFO pile. This month's challenge was needlerolls. I had already completed two just before joining the blog, so I felt that I should do at least one more. Doing "just one more" led to doing three more.
These were the last of the pieces in my FUFO pile that were designated to be finished as needlerolls. Now, if I want another needleroll, I'll need to stitch it! :)
May's finish is supposed to be a biscornu. I've never done one of these, and I don't think I have anything stitched that will fit the bill. So, I'll be stitching one soon. It's a finishing technique that I've wanted to try for a while, so I think it will be fun. I'm not sure yet if I will pull a freebie pattern from the internet, or if I might go ahead and design something original. I haven't spent nearly enough time designing since leaving work, so maybe this will be a good opportunity.
I had a nice surpise a couple of days ago. For the third time in a week, I had a female cardinal fly out of one of the nandina bushes as I was making my "rounds" through the flower beds. Detecting a pattern, I decided to do a bit of very careful nosing around. Yep, it's spring, and the cardinals are making new birds. :)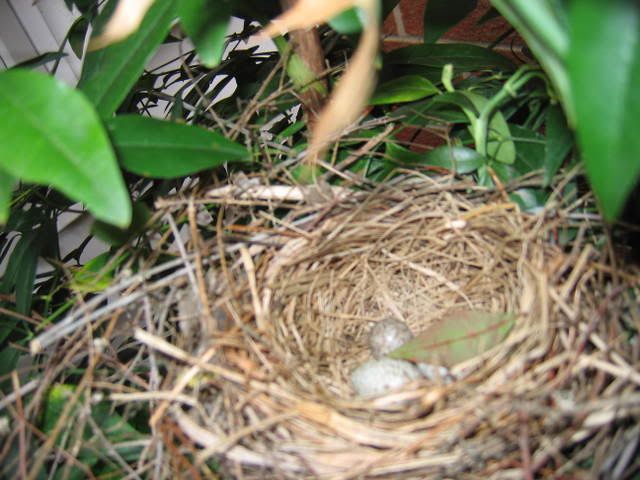 I couldn't quite tell if there are 3 eggs or 4, but as of yesterday, they haven't yet hatched. I'm able to see the nest from inside our sunroom, so we're able to watch without disturbing the little mama.
MY babies are doing quite well! The garden still doesn't look like much, but the bits that I've planted there are growing and appear to be happy.