Sometimes, I need a reminder...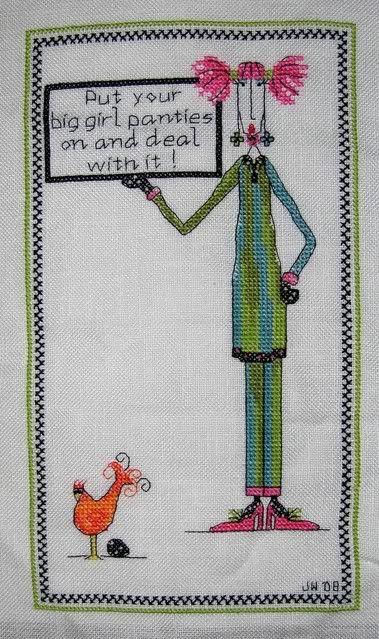 Completed April 20, 2008
Design: Big Girl Panties
Designer: Janlynn Kit
Fabric: replaced the 14-ct. aida with 28-ct. something-or-other from my stash
Floss: DMC
This has been such a busy week. I'm exhausted from it, and even managed to sustain very minor (but painful) injuries in what could only be described as a freak accident. A large glass measuring cup fell, hitting me in the head before landing on my thumb. It would be funny if it wasn't so painful. >:( Nothing serious, but painful enough that it disrupted my sleep last night. So, instead of throwing a pity party for myself, I finished BGP. Much better! LOL
I'm also feeling very pleased with myself for a "work" acheivement today. I *finally* got around to trying the new body cream formula that I've been working on. I still have a hard time thinking of these things as "work", but I suppose that's what it is. The cream is a basic Shea & Cocoa butter and jojoba oil combination, lightly scented with lavender essential oil. It's really thick, which is what I was going for. It turned out GREAT, if I do say so myself.