I've been working hard to finish my Spring Exchange project this week, so I skipped working on my UFO last night. I completed the stitching on the exchange piece Monday, and started the assembly yesterday. Unfortunately, I was a bit under the weather and didn't get it completed. :( Mailing day is tomorrow, so guess what I'll be doing tonight!
In the meantime, I did a few more stitches on Robert's Stocking. I love how this is turning out, and it's such a nice change from some of my other projects. The photo isn't the best because I laid it out on the kitchen floor (the best place I could find to stretch it out at the time) and got a reflection from the flash.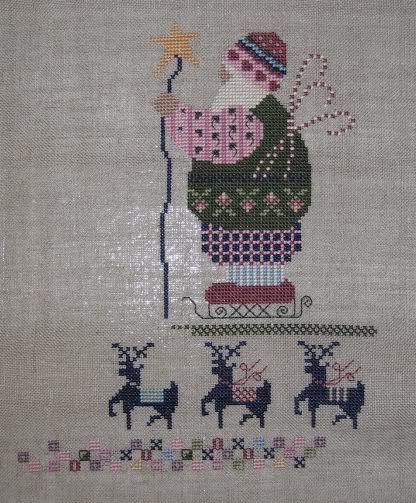 And now, a shameless pet picture! I am never able to get good pictures of my little gray kitty. She's very camera-shy and always moves whenever she sees or hears the camera. BF took this pic a couple of days ago, while I was at work.
Of course, this photo isn't quite what it seems. In the pic, it looks like the two of them are simply taking a little catnap together. In reality, they had just had a fight and Buddy had dislodged little Zoe and taken over her pillow. Normally Zoe spends hours on end on her "throne", looking regal while perched on "her" pillow. That is, until Buddy, the rambunctious boy cat, comes to bug her. I think it's the only time she moves.