I'm a creature of habit, and when I get out of the habit of something (like blogging), I have a
very
difficult time getting back into it. Case in point: I've posted only one blog entry in the last 2 1/2 weeks.
I could come up with plenty of excuses-- work has been extremely hectic, I don't feel like spending time on-line at home, etc., etc., etc. But really, I was just being lazy. So, no more laziness... back to blogging!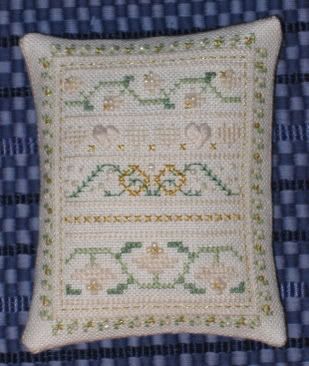 The first weekend of the month is my FUFO weekend. For March, I assembled the June Sampler Accent from Periwinkle Promises. I stitched this little thing YEARS ago, but just got around to putting it together. The photo isn't great, because there's a lot of tone-on-tone stitching, which doesn't show up very well.
I'm happy to report that I have stuck to my plan of assembling at least one FUFO per month. The pile is shrinking!! Well, sort of... I seem to be adding to it with various ornie finishes.
Over the weekend, I started working on my Spring Exchange project. I had a hard time choosing a pattern for this one-- there were so many I liked! Once I settled on a design, I decided to change the colors a bit, to something I thought my partner might like better. This resulted in a bit of frogging along the way, but I think most of that is resolved now. I'm very happy with the color change. I hope the recipient likes it!
Speaking of exchanges, the St. Patrick's exchange that I sent to
Heather
arrived safely. My pics didn't turn out very well, but if you visit her blog, there are better pics there. The pattern is from Sweetheart Tree.
DOH!!! I just realized that the (bad) photos I took of this exchange project haven't been uploaded to my Photobucket album yet, so I can't share. You'll have to visit
Heather's blog
if you want to see them.
I haven't taken any update photos of my stitching lately. I'll do that tonight... I promise!!! Check tomorrow for plenty of pics.