We left for a trip to New Bern, NC last Saturday, and I didn't have a chance to post before we got on the road. It was a blissful week of relaxation and stitching, and an occassional walks by the lake.
Prior to leaving, I was busy finishing my Spring exchange gift for Leslie. I stitched Just Nan's Royal Blossoms, with a few changes. I made my flowers purple instead of pink, and used pale lavender fabric. Of course, I got all the way to the PO when I realized I hadn't taken a photo of it. :( Fortunately, Leslie posted a pic on
her blog
.
I also received a spring exchange gift from Laurie a couple of days before leaving. I just loved this little needlebook-- it's so beautifully stitched and finished. Thanks, Laurie!!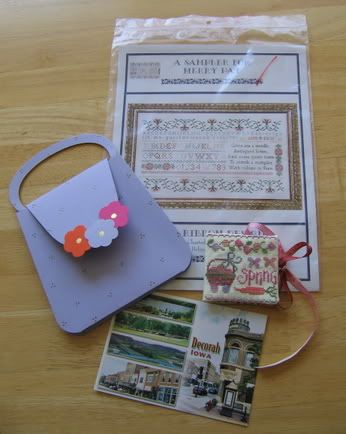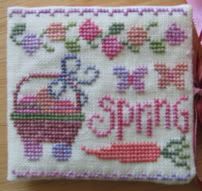 I took three projects along on our trip-- Castle Sampler, Robert's Stocking and a Christmas ornament. But the only one I worked on was Castle Sampler. I made some good progress on it, and am hoping to finish it in April or May.