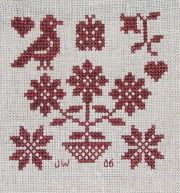 First, an almost-forgotten happy dance. This is a design by With My Needle from one of the JCS ornament issues. Of course, I don't remember which issue I stitched it from. It's stitched on 36 ct. linen using WDW Brick floss. I actually completed this on February 24, the day before we left for Florida. Of course, I had to do other things (like packing) that evening and I didn't have time to take a picture.
I'm still working on my UFO on Tuesdays. I'm seeing some progress on it, but it certainly is slow! I got tired of stitching beads and switched to the wing instead. Of course, there's a ton of metallic braid and blending filament in the wings, so that poses its own challenge.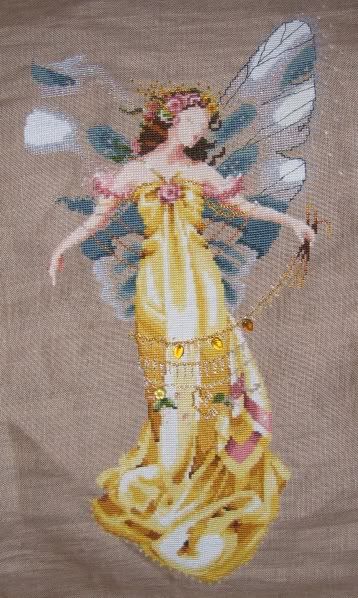 I'm also participating in a TW stitch-along. My project for that is Castle Sampler, and the designated SAL day is Monday. I've been working on this other days as well, in the hope that I'll finish it this year. Looking at the progress I've made so far, I think I can do it!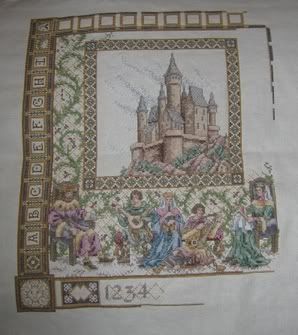 When I get tired of Adia and Castle Sampler, I switch to Robert's Stocking. It's a fairly large design, but it's over 2 threads on 18 ct. linen, so the stitches are nice and big. It makes a nice break from some of the other things that I have going.
Of course, I'm also working on a project for the Spring Exchange, but I can't post pics of that!