I started my Thursday evening stitching session by working on Castle Sampler. I managed to get all of the over-one stitching in the top border done. It's a small accomplishment, but progress nonetheless. It didn't take terribly long and I could have made some progress on the remaining bits, but I decided to put it down for a bit. The over-one areas aren't bad to stitch, just very fiddly and I don't have the eyesight (or patience!) for it after a day of staring at my office computer.
Here's how the blocks look. I still have to go back and put an over-two stitch in between the green over-one stitching. Actually, the worst part of the over-one stitching was the tiny little bit inside each letter block. Each one was five stitches-- done in three different colors, in typical TW fashion. The results are terrific, but doing confetti stitching over one is NOT my idea of a good time! LOL
That takes care of the Castle Sampler update. Now it's time for Old Frogs.
I've been trying to stitch one Christmas ornament each month this year, and so far I've kept up, more or less. I hadn't yet started an ornament for April, and I was ready for a break from CS last night. So I pulled out my stash of JCS ornament issues and found a forgotten ornament that I started back in 2000.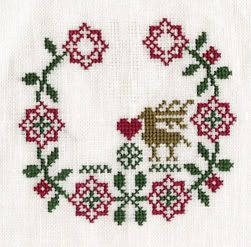 I KNEW there had to be a reason that I had stopped working on this-- it was nearly finished, and had been tucked neatly inside the magazine, where it spent the last 4 1/2 years. It looked fine to me, so I decided to finish it. After stitching a very little bit, I realized why it had been sitting for so long. I had somehow miscounted by ONE STITCH (isn't that usually the case?) and didn't realize it until I had nearly completed the ornament. Not being a big fan of frogs, I simply put it away. And then I forgot about it.
This really bothered me. It's a pretty design and has enough work in it that I really don't want to start over. So I got out the scissors, and I frogged. And frogged. I had to frog all of left side from the bottom of the red motif up. I think I've removed all of the mistakes and am now ready to finish the stitching. :)
We're heading to the country for the weekend. We'll be staying a bit longer this time and won't return until Tuesday. There's a lot of work to do out there, so I'm not sure how much stitching time I'll have. I'm optimistic though, and will be taking a few projects along to keep me occupied.