The weekend was great, very productive. I didn't do a lot of stitching, though. This was the monthly stitchathon weekend, but I had to squeeze stitching sessions in between everything else I needed to accomplish. There simply wasn't enough time or energy.
My weekend started with a drive to the country on Friday evening. Normally we don't leave until Saturday morning, but this time I had some bank business that needed to be done, so we had to leave on Friday. I came home from work, cooked dinner, cleaned a little, packed a little, then jumped in the car. Most of Saturday was spent between the bank, DMV, and yard work. All of that was followed by some quality time in the jacuzzi, which didn't leave much time for stitching. Sunday was Easter dinner with family, followed by the drive home. Again, not much time for stitching.
I had intended to work on
Robert's Stocking
over the weekend. The stitching is nearly done, and it works up so quickly. I thought it would be a good project for the weekend, as well as a nice break from Castle Sampler. But when the time came to work on it, I just couldn't get motivated. So I pulled out Castle Sampler and worked on it instead. With such limited stitching time, I didn't make a lot of progress. Still, I am inching closer to a finish on this one. Here are the Before & After pics: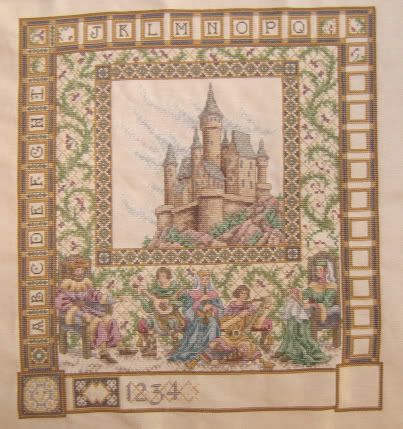 And now, a gratuitous picture from the country. This is my little breakfast nook, one of my favorite spots in the house. We have a very pretty formal dining room out there, but I like the breakfast nook, with it's view of the mountains. On the table are some flowers that I picked on Easter morning. They were for my aunt, along with the crystal pitcher, which had belonged to my mother. The tablecloth is cross stitched, but not by me. It was passed on by a friend of the family. I don't know who stitched it, or when, but it is quite old.