I have a feeling this is going to be a long & rambling post. Lots to share today. LOL
Thanks for the comments and emails regarding the "Family Heirlooms" question. I
knew
I couldn't be the only one who didn't really have immediate family to pass these things on to. ;) I do have members of the extended family who would probably be delighted to have my stitching, and of course, there are always my stitching friends.
I also realized that I posted a pair of assembled needlerolls and neglected to give any design details. So, I'll try again...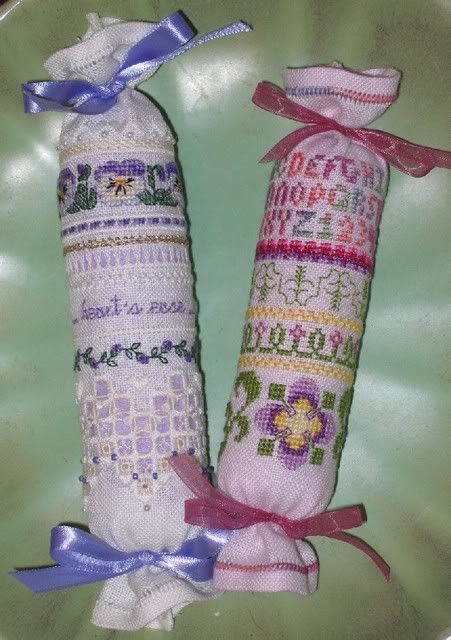 The one on the left is Pansy Sampler, by Victoria Sampler. I finished it some time ago, but the assembly was on hold until I could find something to line the hardanger area with. The one on the right is Little Gift Sampler, a freebie by Indigo Rose. It was a recent finish.
Speaking of FUFOs, I finished another one today. This is a Sweetheart Tree heart that I stitched ages ago. At my used-to-be LNS, there once was a little Christmas tree decorated with all of the Sweetheart Tree hearts stitched and sewn into ornaments. The patterns were on little cards that didn't have photos, so this tree really helped to sell those designs. I collected most of them, but have only stitched two so far. This one was meant to be a Christmas ornament, until I found a little heart-shaped box at a craft store that looked about the right size. It was perfect!! Unfortunately, I only got one of the boxes. :( I may look for more of these, but I'm not sure I'll be able to find them.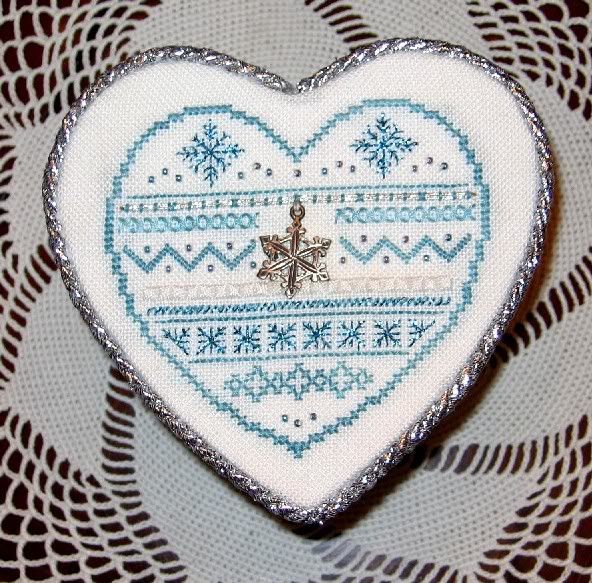 I finished the box using coordinating paint colors and simply dabbing it on randomly. It took some time to get it just right, but I'm quite happy with the end result.
The last of the tulips are blooming. The blooms on the doubles are so large and heavy that they fell over. Can you believe this is a TULIP blossom?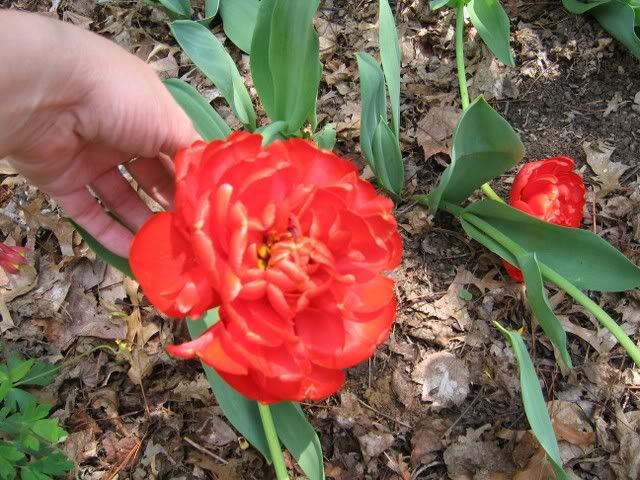 Happy Generation is also in bloom. It's the one with the red stripe. Daydream is fading, but a few are still holding on. I've really enjoyed watching the colors change on that one. I really need to find more bulbs for these and the doubles this fall.