Marie has received the gift that I sent for the Winter Blast exchange, so I can now post a picture. The design is Random Thoughts of Winter. I have to admit that I didn't much enjoy stitching the whole thing with white floss, but I think the result was worth the trouble. I decided to finish this as a wall hanging-- a new finishing technique for me. I was happy with how it turned out, but it was quite a learning experience. BF really liked it and has informed me that I need to finish some of my stitching into wall hangings for us. ;)
We spent the last week in the country. I decided not to take any large projects with me. I took all of my new Little House Needleworks kits instead. After digging through my considerable stash of needlework fabrics, I pulled out a piece of 32 ct. putty linen that will work nicely for a couple of these. The first one that I stitched was "Acorns," which was the December design. I just love the little squirrel on this one!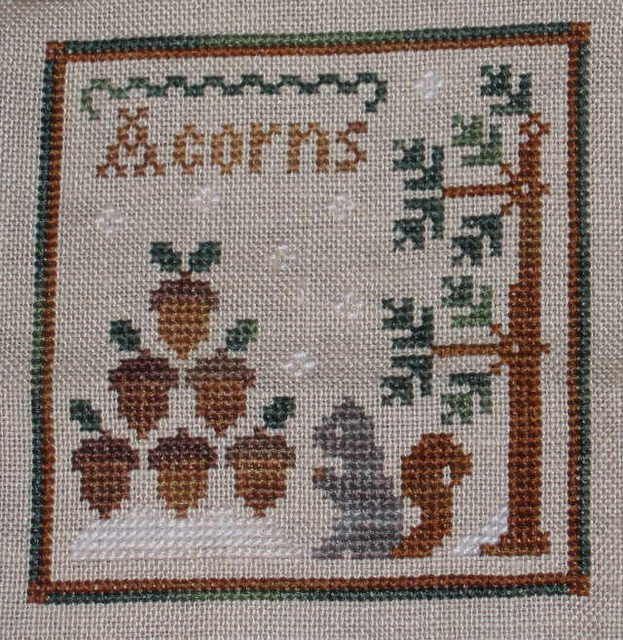 Thanks for all of the recent comments. I keep promising myself that I am going to take some time out of the holiday preparations to read all of your blogs, but that isn't happening just yet. At the moment, I'm in the midst of my annual holiday baking. Our family get-together has grown too large for gift exchanges, so I've gotten into the habit of making baskets or tins of holiday goodies for each family group each year. I have to fill 10 (!!!!!) baskets in time for the get-together at noon on Sunday. I like everything to be fresh, so I'm barely started. It's going to be a BUSY couple of days!
Some of you may remember that our tree fell down last year (under the weight of all the ornaments LOL) on Christmas eve, right in the middle of my holiday baking extravaganza. Fortunately, the tree is looking stable this year, so I don't think there will be any "excitement" to distract me from the kitchen.
A note on the sofa photo... the sofa pictured is the new sofa that will be arriving in a couple of months. I'm getting a different color, though-- the orangish-red color that is on the top of the swatches. It looks much more orange in the photo than it does IRL. I wanted a "statement" piece, and this fits the bill perfectly. I couldn't find any contrast fabric that I was crazy about, so the throw pillows will all be the same fabric as the sofa. I'll make some contrasting pillows myself later.
Well, that's enough of a ramble from me. I'm off to the kitchen to check on my fudge!