I am happy to report that my last exchange for 2006 is in the mail. On time! :) This one was for the Winter Blast exchange. I tried a new finishing technique-- I'll share a photo as soon as it arrives at its destination.
Meanwhile, I got older this week. BF & I aren't ones for much hoopla, but I did haul him to the LNS where he got me the four latest Little House Needleworks Crescent Colors chartpacks. I picked up the first three when I was at Hershey in September. BF added Berries, Peaches, Pumpkins, and Acorns to my collection.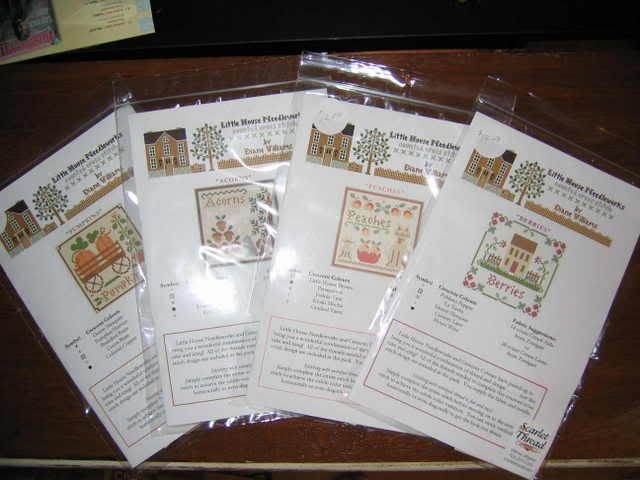 I also got myself a little present-- a new sofa! I've been searching for quite a while and finally decided on one. Of course, since it's a custom order, I won't actually have it for another 2 or 3 months.
My culinary adventure for the week was cooking my first duck. I used a recipe for
Roast Duck in Cherry and Black Peppercorn Sauce
from Food Network. It was a bit of trouble getting all of the ingredients together, not to mention picking the pinfeathers out of the duck, but it was well worth the effort. The recipe turned out even better than I expected, and the duck itself was picture perfect. The only thing I'd change is the quantity of the sauce-- it makes a bit too much.