I don't know what it is about hemming/finishing that I dislike so badly, but it seems like I'll do nearly anything to avoid it. Take New Look 6429, for example. I'm not going to tell you exactly how long it hung in my sewing room waiting for the finishing touches. Let's just say it has been there for a while. The worst part is that it's sleeveless and required a narrow hem around the armscye. I probably should have just put sleeves on this dress. I would have been able to wear it sooner. Oh, well. It's done now.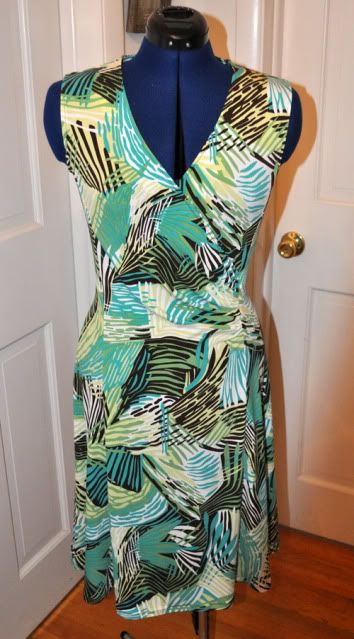 The pattern is New Look 6429. I selected it for the princess seams and interesting back detailing. I didn't take a photo, but the back bodice goes down into a little "v" shape where it joins the skirt. The princess seaming provides wonderful shaping and the pattern is very well drafted, making it exceptionally easy to put together.
The only trouble I had with this dress (other than my own procrastination), was the facings. They don't want to lay properly. I'm sure the problem is with the fabric & interfacing that I used, and not the pattern. I doubt anyone other than me will notice, but the neckline wants to roll outward just a bit.
My latest pair of shorts are nearly finished, but I've run out of thread for topstitching. They're meant as a wearable muslin. So far, they seem to be turning out pretty well. The fit is nice and, most importantly, the waistline isn't too high. I'll probably pick up some more suitable fabric for another pair soon.