This summer is turning out to be very hectic, particularly July. Two family reunions and a wedding have combined to eat up every weekend of the month. In between, I've been spending countless hours outside working on various gardening chores. Gardening is one of those things that always starts well in the spring, but I quickly lose motivation to keep up with it when the temperature starts to rise. Seriously, it's about a million degrees outside now, and I really have to force myself to get out there. Afterward, I'm hot, miserable, and sore all over... not exactly prime time to be sewing.
I figured that an easy knit top would be a good thing to work on. I decided to try a different view of M6326. Not too many pieces, and nearly instant gratification, right? That's how it was last time, when I made view D, but not this time. No... this time, I promptly sewed the upper back to the *bottom* of the upper front. Naturally, I was using the tiny zig-zag stitch for knits on my machine, which is extremely difficult to rip out.
Lesson: Do NOT try to sew anything when you are tired and everything hurts from gardening.
After some serious un-sewing, things got back on track pretty quickly. I was making View C, the one with the twist top. The only problem with the pattern as designed is the keyhole opening below the twist-- it's WAY too low as designed. I sewed it up a bit, but went too far and now you can't really see the opening when it's worn. The fabric probably looks familiar. That is because it's left over from the dress that I recently finished.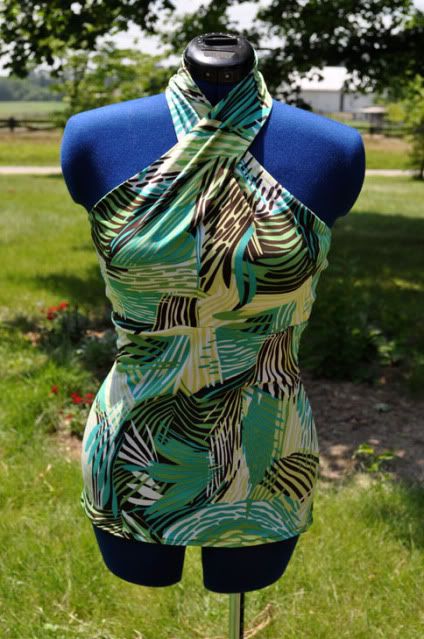 I finished this yesterday, and promptly wore it out to run some errands. It's a cute top, but it doesn't wear nearly as well as view D. The twist top isn't very comfortable in really hot weather, and the back rides down just a bit, which is a problem if you're wearing a strapless bra with it (I was). I had already taken the top in quite a bit before wearing it, but it still slides a bit.
Today's finish was McCall's 5391, the shorts that I started a week or so ago. I wasn't able to finish them because I ran out of thread for the topstitching. I finally remembered to pick some up, and it didn't take long to finish these. They were supposed to be View B, the cuffed version with the tabs, but I cut them off too short before hemming and decided not to cuff them.
This is a lousy picture, but I can't get the stupid remote to work on my camera, and I was too lazy to try to put shorts on Wilma. So, there they are... flat on the cutting table. At any rate, I really like the shorts. I'm not crazy about the fabric (left over from last year's pants), but these were really intended as a wearable muslin. I wasn't too eager to buy fabric for shorts until I was sure I had a pattern that worked for me.
I liked this pattern much better than the previous one I used (McCall's 5857). The waist band sits lower, but not too low. The fit of this pair is much closer to my favorite RTW shorts-- a pair from Lord & Taylor that I bought out of desperation because I couldn't find any shorts to fit me and I hadn't yet found a shorts pattern that worked for me. Now that I've tried this pattern, I'll definitely be making more of these.