It might seem like I haven't done any sewing since Thanksgiving, but that isn't true. Some time ago, as in BEFORE CHRISTMAS, I started working on M5522 (I had some other things in the works, too). The pattern had been in my stash for a while, and I purchased some pretty red fabric for it. That's where the trouble began. First, the fabric was aggravating to work with. It fought me every step of the way. It was a nightmare to cut, and only slightly less troublesome to sew. Things were going pretty well, until I got to the collar and stand. The collar & stand weren't the problem-- they went together perfectly. The trouble happened when I pressed the collar. I'm not sure exactly what happened, but my iron ruined the collar. It wasn't a very good iron, and I should have replaced it long ago, but I had gotten by with it for so long that I hadn't bothered. (Okay, there was one ugly incident with a pair of pants prior to this... and I didn't get the hint.)
After completely ruining the collar, I immediately ran out and replaced the iron. I picked up a Rowenta professional something-or-other, which I absolutely LOVE. After getting my spiffy new iron, I set to work on doing another collar & stand. That's when the final incident happened... I managed to follow the instructions for the wrong view of the shirt, and ended up with the band collar. You'd think I would have noticed that there was no collar attached to the stand, but nooooo.... of course not! At this point, I was so sick of the collar drama that I decided to just go with the band collar. That worked, until I tried to attach it, and nothing lined up correctly. I have no idea why, because it was at that point that I couldn't take any more, and I simply stopped working on it.
I love the idea of the shirt so much (and it really is a great pattern!) that I haven't quite had the heart to doom it to wadder-dom, but I also haven't had the stomach to undertake making the collar for a THIRD time. So it sits in limbo.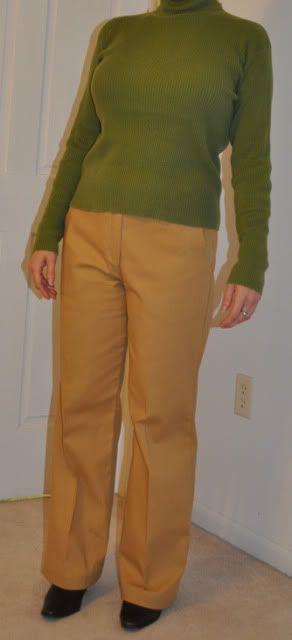 Meanwhile, I have been sewing. I just haven't been very good about posting, or taking pictures. I tried to play catch-up today, but it didn't go so well. I started with S4135, a pair of pants that I loved when I made them. That was over a month ago. I've lost weight since then, and they no longer fit. I need to take them in all over, but haven't gotten around to it yet. I need to do a review of them, so I took a picture anyway. Ten pounds ago, they were *perfect*... not so much now. LOL
I've also finished S2603, the cardi-wrap that everyone (except me) seems to have made in the last year. I made a sleeveless top to go under it, but not the one shown on the pattern. More on the pants and cardi later.