I finished B5497 today, but I'm not terribly excited about it. The color is good. The fabric... not so much. This is the same type of fabric that I used for the purple top I made recently and there is something about the drape that I just don't love. It's a shame, because it comes in really great colors.
I was in doubt over this pattern before I even cut it out. I think the sleeveless version might be okay, but it's November and that just wasn't an option. I was a bit concerned about the cut-in sleeves. Sometimes they work on me, but not always. My plan was to cut them off if they were a complete disaster. (Oh, how I wish that was my only issue with this top. LOL)
First things first. The good... the pattern was very well-drafted and went together perfectly. The elastic insertion at the bodice seam was a little weird, though. It works, but I would do it differently if I ever tried it again. (Don't hold your breath!)
Some of the issues in this photo are due to Wilma's poor modeling techniques. The shirring on the top of the sleeves is completely lost in the gap, and the draping is a little off because of the way the fabric sticks to the dress form. Those things aside, there are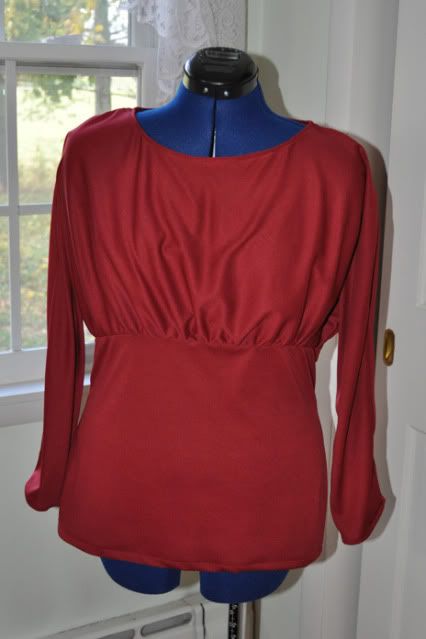 actually several things I would change if I was going to do this top again. First, I *hate* the way the neckline is finished. It's done with a narrow hem, something I never like on a round neck. I thought about doing a bound neckline, but followed the pattern instead. I really wish I had gone with my instinct-- it would have been so much better.
I also don't really like the way the sleeves hang. Because they are cut-in rather than set, there is a seam that runs from the shoulder all the way down the sleeve and there is elastic at the shoulder to create shirring at the top of the sleeve. Sounds good in theory, but it shortens the sleeve on the top side, making the hem look odd.
At the moment, I doubt I'll ever wear this for anything other than yard work. My plan is to let it sit for a little while and see if I feel any differently about it later. If my feelings about it change, I plan to fix the neckline (I screwed it up a bit when I was doing the narrow hem). And I might chop off the sleeves and have this as a summer top instead.
On a brighter note, the pajama bottoms have been keeping me warm and comfy. :) There will definitely be more of those in my future, though I will make a couple of changes. For starters, they need pockets. And after looking at the photo, I realized that they aren't nearly as pink as they look here. The photo makes it look like they glow in the dark... they're not quite that bright. LOL
Oh... and Julie... the top for the pajama bottoms were these tiny little spaghetti-strap things. Definitely NOT suitable for cold weather. Anyway, I usually wear t-shirts with my flannel bottoms. (Probably more than you wanted to know. LOL)