I'm happy to report that as of Friday, my top was done. :) Now I just need some warmer weather, so that I can wear it. The sleeves look a little funky in the photo, because I took a picture before adding the buttons to the sleeves.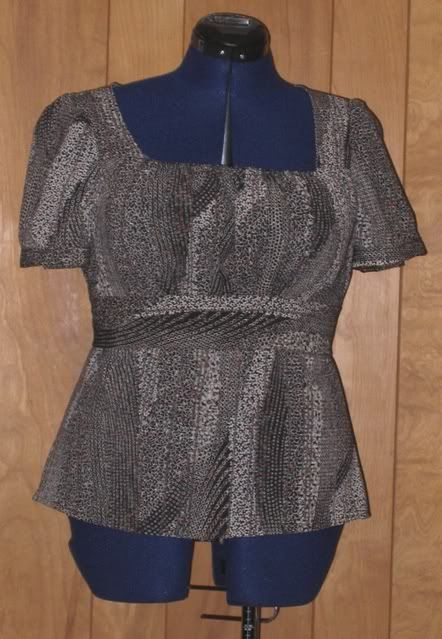 Next up will be another top-- this time, in a solid fuschia stretch knit. Bring on the spring!!
I'm also going to post my pattern review here (I've already added one at the Pattern Review site). I'm starting to do enough sewing now that I would like to devote more of my blogging to my clothing adventures.
Pattern:
Simplicity 2924
Fabric:
Cotton Blend
Pattern Description:
Misses' Tops with square neckline and empire waist. Can be made sleeveless or with slightly puffed sleeves. Tops have a wide belt that ties in the back.
Did it look like the photo/drawing on the pattern envelope once you were done sewing with it?
Yes
Were the instructions easy to follow?
Yes, everything was very intuitive and I really didn't need to refer to the pattern much. That seems to be the case with most of the "It's So Easy" patterns that Simplicity produces. As long as you cut & mark carefully, everything goes together very easily.
What did you particularly like or dislike about the pattern?
I liked the overall style of this top. The sleeves are nice, without being too puffy. The center back seam made for a good fit. The empire waistline is quite flattering, although I think the belt is just a bit too wide.
The only problem I had with this pattern was the bodice. The front bodice piece was not nearly long enough for me-- something I didn't realize until after I was finished cutting. Once it was assembled, the seam that was supposed to hit under the bustline was much higher on me. Fortunately, I had plenty of extra fabric and was able to modify the bodice to fit my figure.
Pattern Alterations or any design changes you made:
In order to make this fit my bust correctly, I had to lengthen the front bodice by a few inches and add darts. Other than that, everything else was per the pattern.
Would you sew it again?
Would you recommend it to others? I would definitely recommend it to others. The only suggestion I'd make is that if you are on the busty side, you should add some extra length to the bodice and put in darts.
I'm not sure how many of this top I want in my wardrobe, but I am considering making it again in white. I think it would be a nice alternative to a t-shirt with a pair of jeans.
Conclusion:
Great top in a flattering style. I'm looking forward to some warmer weather, so that I can finally wear it.