Today is a good day... I made my first small steps toward a garden. It's too cold here for planting anything outdoors. We just had snow yesterday. But, it isn't too early to start some seeds indoors. Here are my very first gardening endeavors-- cauliflower, leeks, and yellow onions. With any luck, we'll have some sprouts in a week or two, and seedlings to plant in 6 - 8 weeks. The green sprouts behind the seed tray are some bulbs that I am trying to force indoors. So far, we have lots of green, but no flowers yet.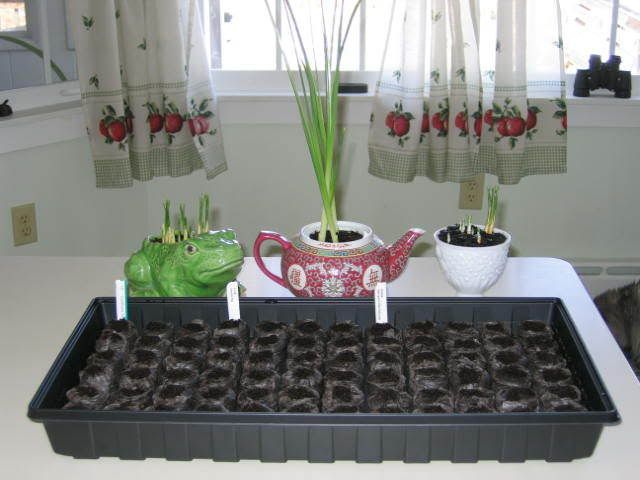 I grew up in a house where we had a huge garden every year, so there's a bit of nostalgia attached to this pursuit. My adult life has been spent in apartments, condos, and townhouses--places where vegetable gardens are not possible. Now that I've walked away from the suburban life, I can finally indulge my love of growing things. I'm not sure that we'll have any real success with it, but we're putting in the effort nevertheless.
Since fall, BF has been working at clearing off the corner of the yard where my dad used to have his garden. It's considerably smaller than what I grew up with, but should be a manageable size for the two of us. What used to be the garden has been untouched for the last 3 or 4 years, so it was quite overgrown. A lot of time and effort has gone into clearing it to make it usable again. There seems to be some sort of errant, invasive type of tree that has started growing there, and they have been quite difficult to remove. We're making slow-but-steady progress, and I think that once the danger of frost has passed, we will be ready to till the soil and plant some veggies.