The "crud" is still with me, though I am feeling quite a bit better. I still feel quite run-down and I'm sleeping a lot, but other than that, I'm okay. I've been able to get some things done around the house over the last two days, so I'm happy about that.
This past weekend, I took a break from working on Tradewinds and decided to stitch a Christmas ornament. The design is "Poinsettia" by Amaryllis Artworks, from the 2002 JCS ornaments magazine. I changed the threads to some red NN that I had in my stash, and GAST for the leaves. The fabric is 28 ct. star sapphire jobelan. Amaryllis Artworks has another ornament in similar colors published in another issue of JCS that I think I will do next.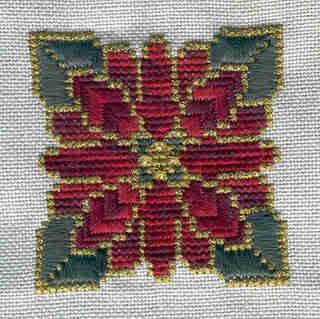 I spent a couple of days last week on Tradewinds and have made a bit more progress.