Nancy has already received this, so it's now safe for me to share a picture or two. The design is Autumn Thanks, by Sisters & Best Friends. I finished it as a needle/scissor case. The lining fabric may look familiar-- it's the same fabric that I used for Cathy's pillow.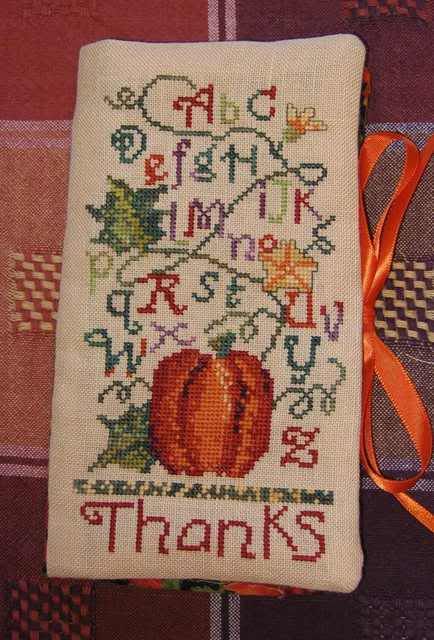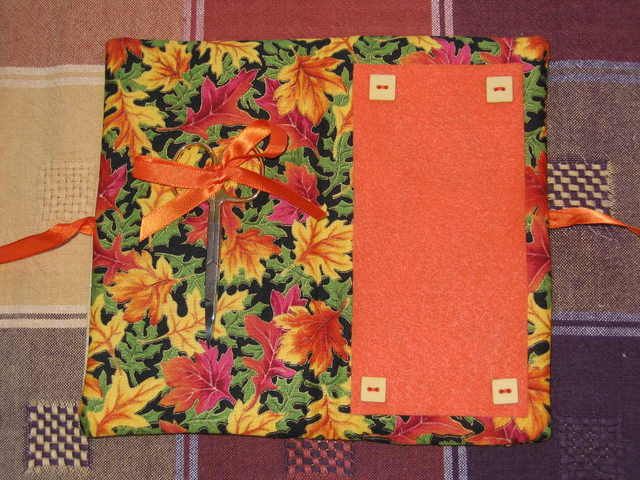 We're in the country for the week. It's very different out here now with all of the leaves off of the trees. The yard is *covered* with them! Fortunately, BF doesn't mind tending to them, so I don't have to worry about it. I'm staying indoors and baking some double chocolate scones. I haven't tried this recipe before, so we'll see how it turns out. ;)
We made the big Thanksgiving grocery run this morning. There isn't much to choose from out here in the way of grocery stores-- just Food Lion and Wal-Mart. It's not at all like the selection that we are used to in the DC area. Mostly, it's okay, until I decide I need an "odd" ingredient for my cooking. Today's wild goose chase was fire roasted peppers. The closest I could come was roasted bell peppers, so I guess that will have to do. Fresh herbs weren't the easiest thing to find, either. I couldn't find them at Food Lion and ended up buying them dried, but later found fresh at Wal-Mart. Guess I'll be doing more of my grocery shopping there, even though I really hate doing that. The store is entirely too large, and I hate buying groceries at the same place where I buy my socks, and vice versa.
I'm going to attempt to fix Thanksgiving dinner this week. It's just BF and me, so if I totally screw it up, it's no big deal. I'm actually a pretty good cook, and I cook a LOT at home, so it shouldn't be any problem. I am trying a couple of new recipes though, just for fun. There was a turkey in Rachel Ray's magazine that looked fantastic, and I just have to know if it's any good.