Our trip to Bermuda went extremely well, other than the fact that I was suffering from a pretty bad head cold the entire time. I took lots of over-the-counter meds while we were away, so it didn't slow me down too much. ;) It's hanging on and I'm still popping pills as I type this.
The Explorer of the Seas was wonderful, as always. We were just on this ship for our Caribbean cruise in September. A couple of things had changed, including the captain and the cruise director. The nicest change was that they had replaced the matresses. That had been my only complaint about our last two cruises, and I'm happy to say that they not only replaced, but also upgraded, the bedding. Fantastic!
We were on the cruise over Halloween, so we got to celebrate cruiseship style. Normally, there are displays of carved fruit, but for this trip, we had pumpkins. The things they can carve never cease to amaze me. There was also a Halloween parade on the Royal Promenade, but I managed to sleep through it. :(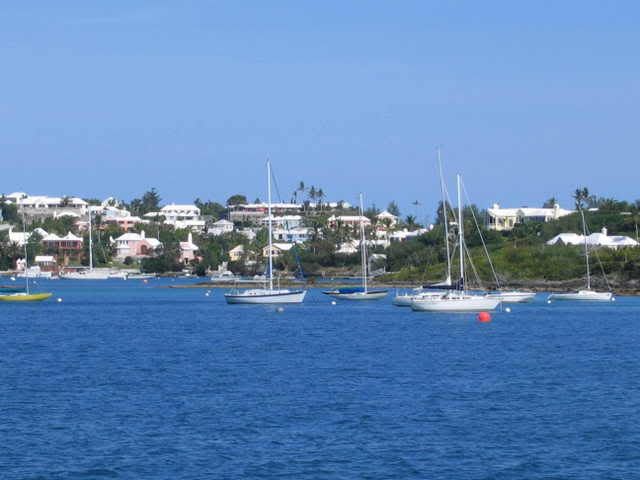 Bermuda was lovely. A little flatter than I generally like in an island, but lush and green, with lots of pastel colored houses. Shopping isn't as cheap as in the Caribbean, but the vendors aren't pushy, so it's a nice trade-off. You shop in stores, with actual price tags, and there is no bargaining as you'd do on many islands. People there are friendly and you feel quite safe walking around, day or evening. Public transportation is available by ferry or bus ($20 for a two-day unlimited pass), so it's quite easy to get around. Scooters are available for rent, but I don't think I'd want to try one with all the cars & buses that are on Bermuda roads. (It's much more "bustling" there than I would have expected.)
Ships usually stop at a port for only a day, arriving in the morning and leaving in the afternoon, but the ship stayed in Bermuda for two days. This left us with plenty of time to explore the island. On the first day, we booked a bus tour through the ship. It started in Hamilton and ended in St. George, with stops at the Botanic Gardens, Aquarium & Zoo, and Fort St. Catherine.
The next time we're in Bermuda, I intend to spend some more time at the Aquarium & Zoo. It's not terribly large, but our visit was rushed because we were on a tour schedule. I did manage to see their pair of Galapagos tortoises. They were even moving around and feeding, which was a real treat to watch. There were also some adorable golden lion tamarins, but they moved around way to quickly to get on camera.
In stitching news, I have nearly finished stitching my Thanksgiving exchange project. I also found out that the autumn exchange that I stitched for Cathy has arrived, so I can safely share a photo of it.