The countdown to the 2006 cruise continues. Just 4 sleeps until we leave! I'm the world's worst (or greatest, depending on your perspective) procrastinator, which means that I have a TON of things to do before we leave. It also means that I haven't had a chance to read any of your blogs. I thought I was supposed to have MORE free time during my leave of absence, but so far that hasn't been the case.
PIG has been woefully neglected. I still haven't managed to finish Part 4, and Part 5 arrived last week. It's
all
beads and will be very slow going, I'm sure. I went ahead and started a bit of it, even though Part 4 isn't yet finished. I figure I have a better shot at getting it all done if I can switch between beading and regular stitching. Here's what it looked like as of August 31.
I haven't done much work on it since then, just a few beads for Part 5. Mostly, I've been sewing like a madwoman, though my finished sewing projects don't reflect that.
The first thing that I finished was a pair of pants. They're not nearly as huge as they look... maybe it's the cropped length that makes them appear so wide? The fit of these is extremely flattering, and there will be more to come before our departure on Friday. I sewed up a second pair of these today, in a lovely brown/black fabric. They were much dressier looking, but unfortunately the fabric was extremely itchy, so they will not be making the trip. I didn't even bother putting the zipper in. :( I have fabric for 3 more pair... wonder how many I'll finish?
I also made this top. I couldn't resist this batik fabric when I saw it on my first trip to the fabric shop.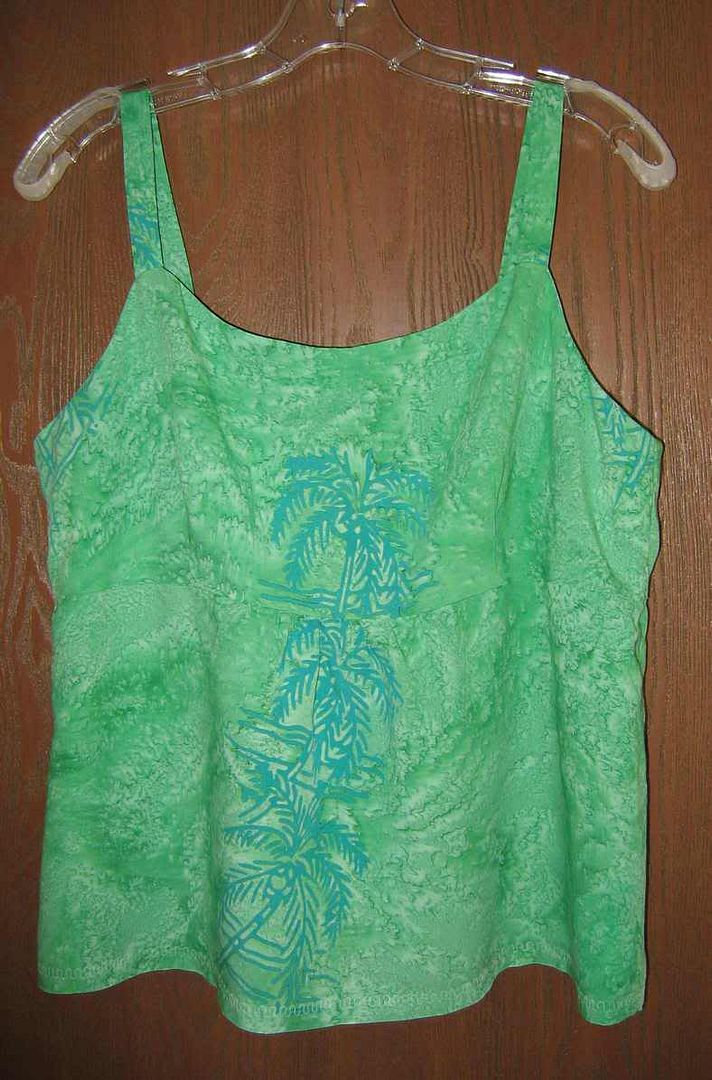 I also added some decorative stitching to the hem of this one. I thought it was cute, but the reality is that I hate fiddling with blind hemstitches, and this was much easier to do.