I've mostly been quiet about it, but... I've lost weight. Quite a bit of it, in fact. I felt like I was too heavy FOR ME and finally decided to do something about it at the end of July 2010. I'll admit, I was skeptical, not expecting much results. I have no will power and LOVE to eat, after all. Much to my surprise, it worked. Great news, but now, the warm weather is upon us again and I have no clothes. Literally. Until two days ago, I didn't even own a t-shirt in my current size. I'm at a point with my sewing where I'd prefer to make clothes rather than buy them, but there are only so many hours in a day for sewing, and I'm kind of slow. I purchased a couple pairs of capri pants and a few tops as a start, but I'm trying to fill in the rest of my wardrobe with my own creations as much as possible.
This brings me to M5857, Misses' Shorts in 4 Lengths. I really need shorts for summer, and had great hopes of this pattern turning into a TNT. Sadly, that was not the case. For starters, I have the wrong size pattern (purchased when I needed a larger size). I took it in quite a bit all over, which helped, but I think it created some problems with the pockets. The pattern is now OOP, so re-purchasing in the correct size wasn't an option.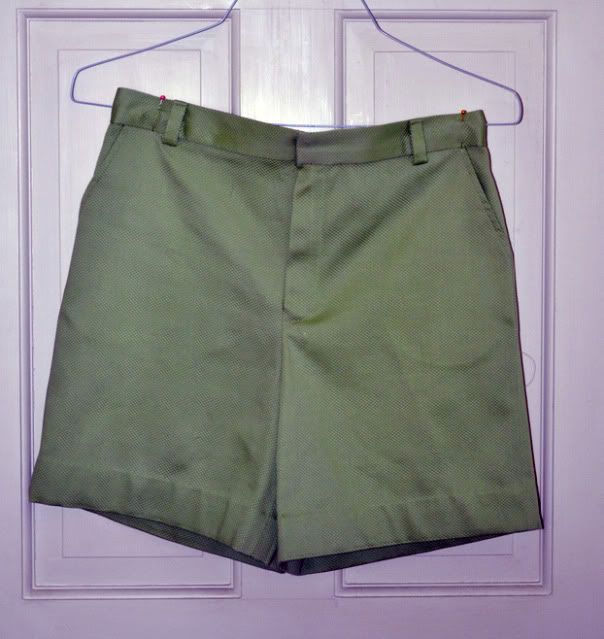 Even if I had the right size pattern to start with, I don't think it would have helped all that much. The waistband of these shorts is just too high for me, sitting just above my natural waist. This gives a decidedly unflattering look to the shorts, giving an odd "3 months pregnant" sort of look, which is only acceptable if one is indeed pregnant. I'm not. I also felt like it would have been much better with a 2-piece, curved waistband. It would have made fit adjustments in the waist a lot easier, and I think the fit would have been more flattering.
The pockets don't lay perfectly flat. I think this is due to my down-sizing of the pattern. I didn't really do much adjustment for the pockets, and I think I should have. In all honestly, I could have taken the shorts apart and fixed it, but it's fairly minor, and I just don't like these well enough to spend any more time on them.
I will wear these, partly because they are my ONLY pair of shorts at the moment. I'll never love them, but they'll be okay if I don't tuck my shirt into them.
The full pattern review is
here
.