Wow... where did February go? Or March, for that matter?
First things first-- my TUSAL progress. This was supposed to be posted on February 15. I took the photo on time, but never managed to get it online. I still haven't figured out how to get a decent picture of a brandy snifter.
My TUSAL container is a bit fuller now, but not by much. I haven't done a whole lot of stitching so far this month. For whatever reason, I just haven't been very motivated lately.
As for my February goals... they didn't go so well. Here's the review-- with accompanying notes/excuses.
1. Finish Lacy Ribs socks
- not finished. I have about 1 1/2 socks so far. I planned to do these in boot length, but after completing sock #1, I realized that I really didn't like the length, so I had to UN-KNIT (ugh!!!!!) half of the sock. After that tedious bit of work, I lost most of my motivation to work on these socks. I'm pretty close though, and should have them finished this month.
2. Spend at least 10 hours on PIG -
DONE!!! It doesn't look like much progress to me, but it was a good 10 hours or more.
3. Work on Adia at least once (this is a real challenge, as I have sort of hit the wall with this one) -
Okay, I'll be honest... I never even took it out of the drawer.
4. Continue working on Garden Verses -
At last, a goal I can actually meet! This was one of the few things I actually worked on in February. It's coming along quite nicely. Updated photo soon.
5. Assemble one FUFO -
I really had to force myself, but I did assemble a FUFO. I chose Sekas' Valentine Heart, a project that has been completed for years but never assembled. I'm not altogether thrilled with the way it turned out. I used a pillow form, but think it would have been better just to use fiberfill.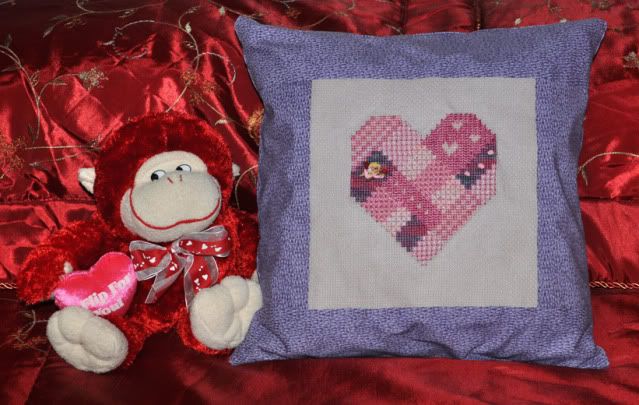 6. Start & finish a needleroll (assembly included!) -
Close, but not quite. I stitched a cute little snowman piece during the February blizzard. The stitching is completed, and the ends are finished. I need to find two charms for it, though. Other than that, it just needs to be sewn & stuffed.
All in all, I'm less than thrilled with my February progress. For March, I think I'll just try to finish the uncompleted February items.