Jack is missing an eye, but at least he has one, along with a nose & mouth. This project has stalled a bit. I haven't worked much on him in the last 10 days or so. Other stuff keeps getting in the way. I have big plans to work on him this evening and still hope to finish it by Halloween.
One of last week's many distractions was a quilt show, held at a local plant nursery. I have never been to a quilt show before but thoroughly enjoyed this one. The quilts were absolutely gorgeous, and I was surprised how many were actually hand-quilted. One of these days, I'm going to take a quilting class. I learned to do it when I was a kid but could really use a refresher.
As lovely as the quilts were, the thing that really got me into trouble was the one small table occupied by someone from our local yarn shop. They had some yarns on display, along with a few sample items... including socks. I've wanted to learn to make socks for a while. And yes, you guessed it-- the shop offers a knitted sock class. I signed up immediately! It's a three-part course; the first session took place on Saturday.
The pattern is a simple rib knit and is knitted with sport weight yarn on #5 needles, so it works up fairly quickly. We started the first cuff and are supposed to knit the rest before the next session, on October 31, when we will do the heel flap. I finished the first cuff quickly and have nearly completed the 2nd one.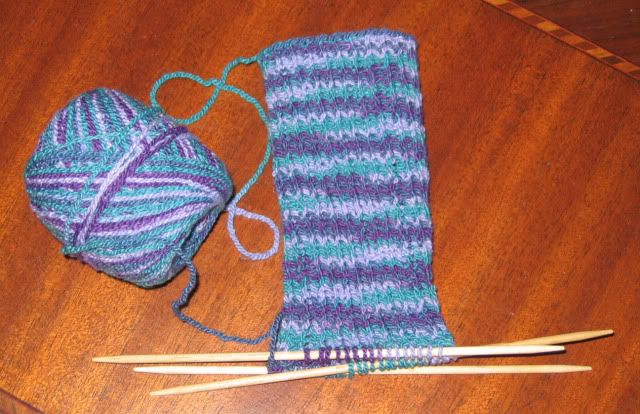 I don't know what I am going to do when I finish the second cuff. I'm torn between starting on the heel flap, or simply buying more yarn in another color and starting a second pair of socks.
There is also a new basket in my house. :) It actually took two sessions for me to complete this one. It has a "fancy" bottom, which I'll have to photograph later after I've removed the tomatoes. I'll be making the next basket this Thursday. I didn't attend last week's class, so I'm itching to get started on another one.