I've been stitching up a storm since the beginning of the year. I know the year is still very young, but I have gotten off to a good start. My main project at the moment is TW's "Tradewinds". I'm very close to the halfway point. Unfortunately, the cable for my camera seems to be at another residence, so I can't actually upload any photos of it yet. :( I do have a scanner though, which means that I can at least share some of my small projects.
Since "Tradewinds" is a BAP, I've been doing other small things in between, just so I can have some Happy Dances here and there. The first week of the new year was especially eventful-- 4 finishes that week.
The first was "Believe Needleroll". This was my official New Year project, since it seemed to be a good motto for the coming year. I started it on January 1, and completed the stitching the next day. I changed the floss to some overdyed cotton that I had in my stash, and the fabric was a 32 ct. from Silkweaver called Spring.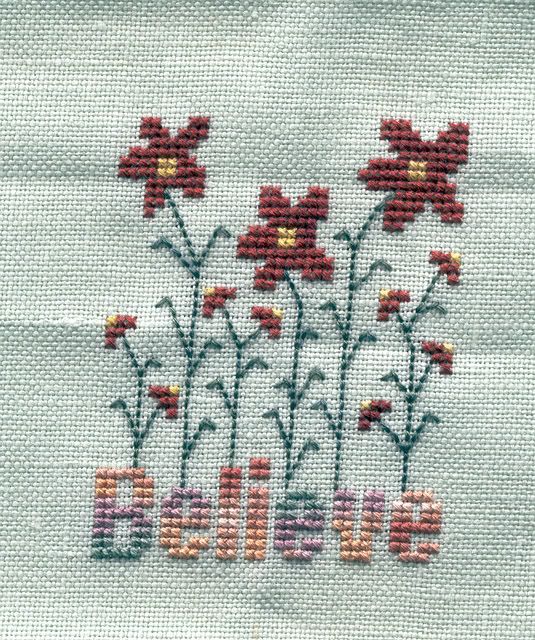 The next finish was "Summer Stroll", by Just Nan. This one is stitched on 32 ct. mint green Belfast. I'm not generally a fan of that particular color, but it suited this project perfectly. I completed this one on January 3.
On January 4, I completed Sweetheart Tree's "By the Sea Sampler". Several sections had optional over 1 stitching, which of course, I had to do. It made for a rather fiddly project, but the results were very nice. I can't say that this was a fun stitch, though.
My last finish, on January 5, was Just Nan's "Snow Faces". I picked this little pattern up at Hershey in 2006, along with the Whimzi frame. Those little frames are a bit of an indulgence, but it's such a quick & easy finish that it's worth the cost.