Stitching continues. Soaping continues. I have photos of all of it, but no camera cable here. It seems to be somewhere in our other home, but neither of us can locate it. So, until a new camera cable arrives, scans of small projects will have to suffice.
The latest small finish is Woodland Snowfall, a Little House Needleworks design from the 2004 JCS ornaments issue. I started it in late 2006, but never got around to finishing it. The fabric is a 36-ct. hand-dyed linen from Picture This Plus, and for whatever reason, it was sort of floppy and soft. It's a nice enough feeling fabric, but something stiffer would have been easier to work with on a project this small. At any rate, the stitching is done now and it is awaiting assembly.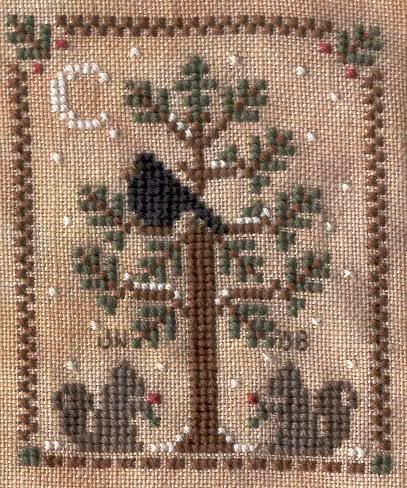 I wanted to assemble some FUFOs this week, but like so many things, my trims and such for finishing are all in… you guessed it… the other house. Determined to tackle some FUFOs, I went to Wal-Mart earlier this week to find some trims. I know that most Wal-Marts are doing away with a lot of that stuff, but ours out here still has that department (mostly) intact. The only things they seem to have removed are the cross stitch supplies.
As expected, trim selections were extremely limited. Just finding a bit of matching ribbon for any one of my many needlerolls was nearly impossible. I did the best I could with the extremely limited selection and have at least managed to finish one FUFO.
I stitched this snowflake ornament years ago, but delayed assembling it because it was round. I'm pretty good at finishing, but the round ornaments always seem like a giant pain, so I've never done one before. I also wasn't crazy about this design once it was stitched, largely because of the fabric. I'm pretty happy with the finished ornament, though. It will look pretty on our tree next year. ;)