I've been having trouble posting to Blogger recently. It seems as though the connection times out, or something. I decided to try posting through the "Blog" feature on Photobucket. I hope it works!
Last night, I assembled my partner's For the Birds exchange gift. I'm very happy with the way that it turned out, but of course I can't share any pictures yet. I hope my partner likes it! I spent most of the evening putting this little thing together and didn't do any other stitching afterward. Instead, I plopped down on the sofa and watched "The Todd" (it's what BF & I call my favorite soap... One Life to Live) on Soap Network. Yep, I admit it... I watch soaps.
I also make Soap. Recently I've been tinkering with melt and pour soaps, which isn't technically "making" soap. It's simply crafting pre-made soap into pretty bars, adding color and scent, and so on. It's extremely easy and a lot of fun, but my real goal is to learn to make soap from scratch. That will come soon enough. For now, I'm still playing with molds, scents, and color. It started with a small kit from A.C. Moore. The next thing I knew, I was ordering more soap making supplies from Soap Crafters.
My current favorite is the Sun Face, made from one of my new molds. It's scented with citrus and vanilla. Yummy! These are just a few of my recent creations.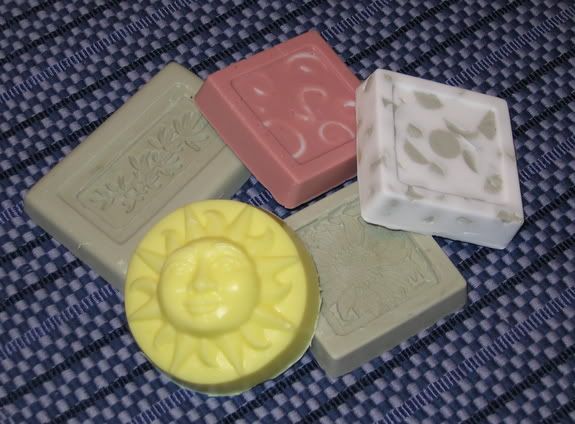 I also wanted to share some pictures from my garden, where I've been doing so much work this year. Unfortunately, I didn't get very good pictures of my roses, thanks to the rain. I waited until the last day of our trip to snap pictures of the roses, and by then they had been rather beaten by the downpours from the previous day. The Peace rose is one that I'm particularly proud of this year. It was really struggling at the beginning of the season. I didn't even expect it to survive, but I decided to try to nurse it back to health. It's still not in prime form, but it is alive and blooming.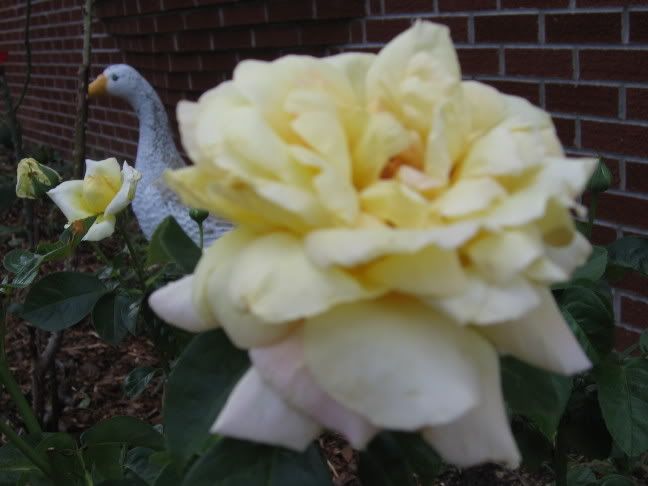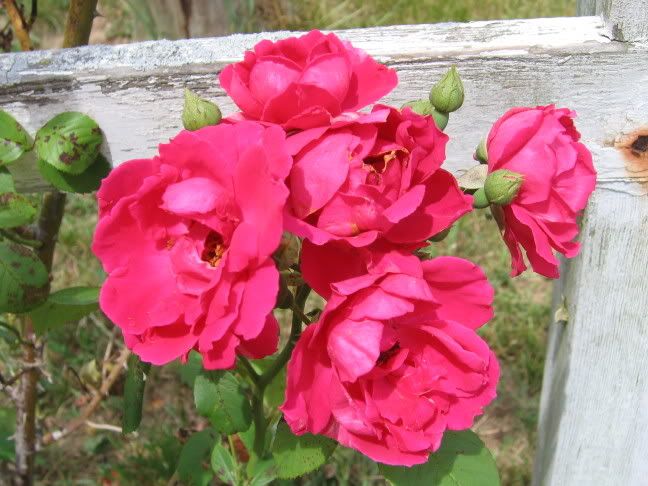 Anyone who knows me well, knows that I love to photograph flowers. It started a couple of years ago, on a trip to Charleston. Last Saturday, after a rain shower, I found the perfect subject in the form of a creamy off-white lily. This was one of the survivors from some bulbs planted last year. So far, it's the only one that has bloomed. But sometimes, you only need one.