I keep promising myself that I'm going to update my blog, and I keep breaking that promise. I seem to have gotten out of the blogging habit. The result is that I haven't updated anything here in more than a month. I also haven't been keeping up with reading the blogs that I've always enjoyed so much. I've been distracted by a lot of things, not the least of which has been Facebook. I found myself spending more and more time fiddling around with more and more useless applications. I finally got fed up with myself, and deleted most of them.
So, here I am... playing catch-up in blog-land.
Besides not doing much blogging, I also haven't done much stitching. That must change! I did manage a bit of Halloween stitching for an exchange. The design is Stitchy Witchy from Brooks Books. I also received a lovely exchange gift, but I am going to save that for another post. It's so nice that it deserves its own space-- don't want it to get lost in the clutter of my rambling.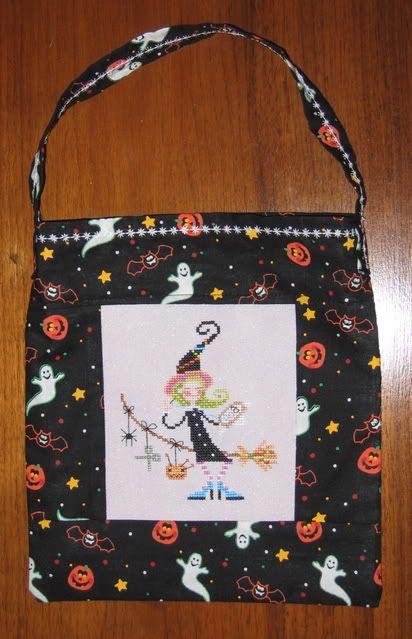 While the sewing machine was out, I also made a bunch of tuck pillows. I've never made any before, but found that I really enjoy making them. I think this may be my new addiction! Two of these were for my Halloween exchange partner.
Speaking of Halloween...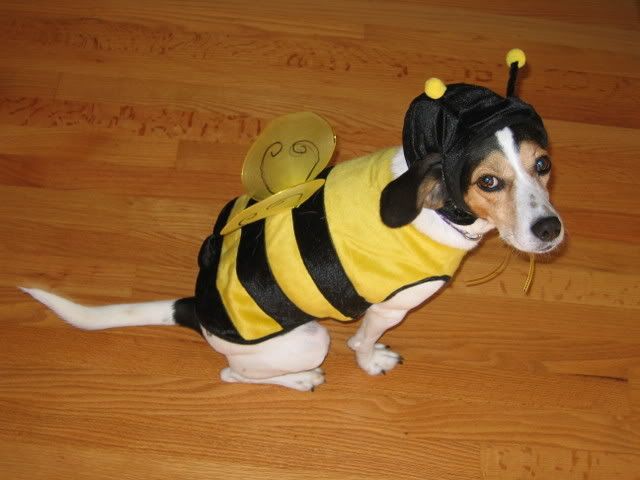 The world's most tolerant dog! I know that most of the goofy dog clothes and costumes are really geared for tiny dogs, but I couldn't resist dressing Sadie up for Halloween. I was hoping she could be the "greeter" for Halloween night, but we only had one trick-or-treater. >:(
My current stitching project is an ornament for an exchange. It goes in the mail at the end of this week, so I need to get working! As usual, I managed to bite off a bit more than I can chew with this one. Sometimes, it's the finish (like deciding that the Halloween bag simply MUST be lined). This time, it's the actual stitching. The design looks simple-- because it is-- but it is all done over one, and there are a LOT of stitches in it. It's cute, though. I'm really excited about it and hope that my partner will like it.